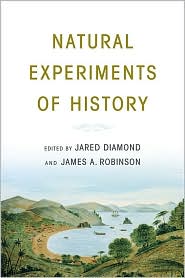 Natural Experiments of History by Jared Diamond and James A. Robinson
Jared Diamond
and James A. Robinson, in editing this
collection of essays
, have bridged "
The Two Cultures
" of C.P. Snow, by showing how History has "natural experiments" where the similarities and differences within a collection of events can be analysed in terms of explanatory variables.
Seven essays are included in the book. Two of them look at the
Polynesian
expansion, in which different outcomes arose as essentially the same Polynesian sailors settled in
Hawaii
and other islands.
James Belich
(author of
Replenishing the Earth: The Settler Revolution and the Rise of the Anglo-World, 1783-1939
) looks at the "Wild West" settlements of the US, Argentina, Australia, Canada, New Zealand, South Africa, and Siberia (the latter more of a "Wild East"), and shows that settlement consistently took place in three phases. In the initial "boom phase," settlers of the
three acres and a cow
type succeeded only because they were supplying goods to newer settlers. Essentially a giant
pyramid scheme
, this led to a natural "bust phase," followed by an "export rescue" phase in which the economy was restructured around profitable exports such as beef (in Kansas) and wool (in Australia).
Not all essays were quite as good. Nathan Nunn (author of "
The Long-Term Effects of Africa's Slave Trades
") argues that the legacy of the slave trade continues to cripple African economies. However, the
linear-regression
methods he uses come with assumptions about statistical distributions that do not seem to be met. Furthermore the heterogeneity in the countries considered is not adequately taken into account [there are four groups: (1) North Africa, (2) island nations like the
Seychelles
, (3)
South Africa
and former dependencies like
Namibia
, and (4) other African countries; median per capita GDPs for the groups are $3995, $3464, $4278, & $578 and the correlation vanishes into insignificance when only the fourth group is considered, as shown below]. Economic differences between African countries probably owe more to colonial and recent history than to the legacy of slavery.
Overall, I loved the idea of the book, but found the quality of individual essays to be variable.
Natural Experiments of History by Jared Diamond and James A. Robinson: 3½ stars